Another Year of Innovation and Strong Growth for this Event
By John Landsman, Director, Strategy & Analytics
This year's Amazon Prime Day roared through with its usual commanding presence, extremely valuable earned media exposure in the run-up, a single day's sales figure reportedly topping $1 billion, very positive year-over-year performance lifts, and competitors again left in the dust.  This year brought a few new twists:  Prime Day deals actually became available at 9 PM (ET) on the day before Prime Day.  Prime Day also ran in India for the first time, to massive email audiences there.  And Amazon leveraged its Alexa personal assistant devices as tools for both facilitating sales transactions and affording special offers on those transactions.  Prime Day related emails also featured the "Amazon Locker' secure delivery service for the first time.
Extending our recently published preview recap, here's our complete look at Amazon's use of email to support Prime Day.
Campaigns Mailed:  Amazon kicked-off the event on June 29th, with seventeen related email campaigns, stayed fairly quiet across this year's long July 4th weekend, picked up the pace beginning on July 5th, and then peaked to 27 campaigns on July 10th, and 68 on Prime Day itself, July 11th.  In general, these numbers track closely to what we observed last year, except for Prime Day itself, where campaign flow greatly exceeded last year's 40 campaigns deployed.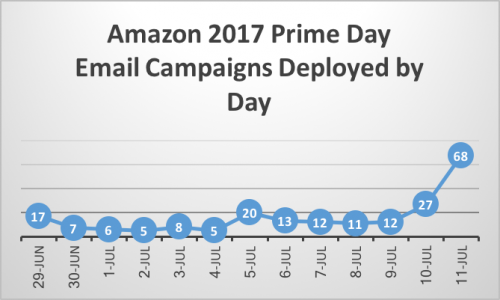 Volumes Deployed:   The June 29th kick-off generated over 200 million emails, of which more than half were in India, very light overall coverage on the following day, followed by a daily cadence of 12-35 million emails for the six following days.  The weekend following July 4th was relatively quiet (5-8 million emails daily), but volumes rose sharply on July 10th (335 million) and July 11th (398 million)  Both of the latter two days saw very large volumes deployed in India.  Even without these India audiences, Amazon's overall email sends were significantly higher than last year's.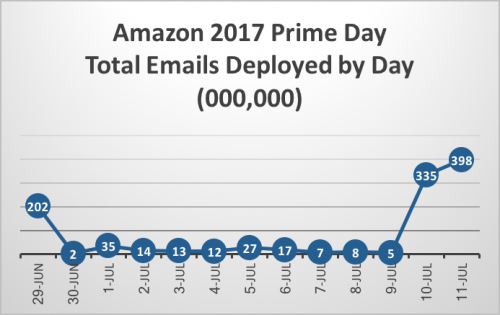 Read rate performance:  Prime Day related emails produced Amazon's customary strong read rates.  Daily averages exceeded 20% on all but one day, with some of the high-end individual campaign read rates in the 50-60% range (see Appendix detail).  Other than the highest daily average observed on June 30th (on very low send-volume), the highest daily averages occurred on July 2nd, 3rd and 5th.  Versus last year's read rates, these were somewhat lower in the early stages, and somewhat higher in the mid to late stages.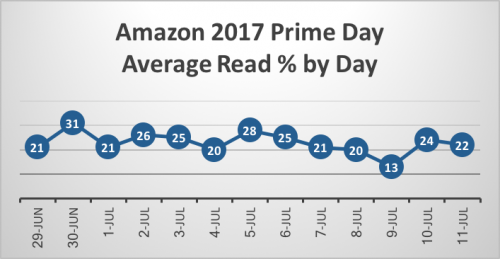 Campaign examples by day:  The table below shows examples of Prime Day related emails sent on each of the leading up to and through Prime Day itself.  While several of these reflect very large send volumes, most — and those with the highest read rates —were targeted to much more selective audiences, although most subject lines appear to have been generically promotional.  Note the massive audience (72 million) in the June 29th kick-off email to the U.S. market.  Also note the Alexa references (July 5th and 11th), as well as the "Amazon Lockers" service referenced on July 9th.

Prime Day business impact:  Where it counted, Amazon's year-over-year performance reflects strong improvement during both Prime Day and the day before, when this year's deals actually became available late in the day.  The trend for number of purchasers improved somewhat, versus the baseline period, for the Prime Day period.  For average spends, the trend for the day before Prime Day was much better than the baseline trends, but the average spend trend on Prime Day itself was much worse.  We saw somewhat this same pattern for Prime Day last year.

What key Amazon competitors did on Prime Day:  As we often observe, Amazon's major retail competitors can't easily counter Prime Day without in effect promoting it themselves.  Yet, Prime Day would have to be deeply concerning for these brands, since about half of their email subscribers are also receiving email from Amazon.  The major national brands do appear to have attempted some significant effort to counter Prime Day.  Listed below are the large-volume promotional emails sent on Prime Day by these retail brands.  Only two (Macy's and Best Buy) seem to have created a specifically named event on Prime Day.  Only two (Best Buy and Staples) deployed more than one such campaign on Prime Day.  None of these brands produced read rates even close to Amazon's average Prime Day read rates.

APPENDIX
Amazon 2017 Prime Day
Email Activity Detail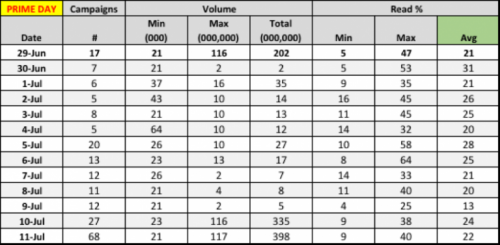 Here you can create the content that will be used within the module.