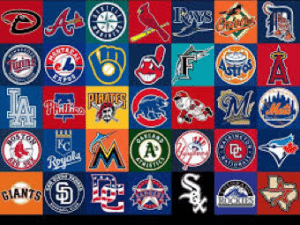 We're nearly two-thirds through the professional baseball season, with the All Star break almost a month in the past.  Perhaps it's a little late to start a conversation about baseball, but we first needed to cover Mother's Day, Father's Day, and Independence Day, to say nothing about Amazon's Prime Day. Baseball stays through October, so still worth covering now.
And it's an interesting story; one we didn't fully know until we started poking around in our data platform.
Most commercial email related to Major League Baseball (MLB) is managed through a single entity called MLB Advanced Media.  This activity includes several MLB mailing domains, as well as a separate domain for each of the individual franchises.  Surprisingly, audiences and mailing activity in the latter category are surprisingly small.  Most of the email supporting the overall activity and the individual teams is deployed out of a single domain (mail.mlblists.com), with additional promotional mail related to MLB's retail sales operation deployed out of fanshop.mlblists.com.   Activity and performance data for each appear in the table below, which shows metrics for the last thirty and sixty day periods.

By the standards of major national multi-channel retailers, MLB doesn't have massive audiences, but neither are they small: nine million for the primary domain; three million for the retail-related domain.  As perspective for you scorekeepers, professional football (the NFL handles its marketing email in much the same way MLB does) has two comparable domains which boast email audiences of about ten million and four million, respectively.  There is surprisingly limited overlap across the total MLB and NFL email audiences:  approximately one million fans in common.
Inbox placement is respectable, but in the low to mid 80% range, somewhat below the 90% minimum acceptable standard we like to see.
Read rates, however, are quite strong — averaging over 20% for both domains, but ranging from 7-70% for the primary domain, and 16-30% for the retail-related domain. By any standard, these are highly engaged email audiences.
Campaign send volumes (not shown in table):

For primary domain – range from 2K – 4.5M; averaging around 380K.
For retail-related domain – range from 2K – 2.4M, averaging around 680K.
The table below shows examples of recent campaigns deployed by each of MLB's key domains.
From the primary domain comes a combination of fan promotions and updates, special service offers, and joint promotions with other brands. Subject matter content varies between individual franchises and total MLB.  There's a mixture of large national sends and smaller sends localized to individual franchises.
From the retail domain we see typical retail promotional messaging, much of it highly price-promotional, and typically much larger send sizes.
Regardless of content or audience targeting, these campaigns generally draw strong engagement.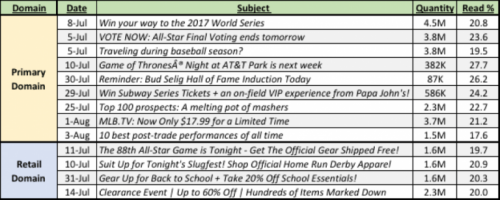 On deck for next week?  A first look at Back-to-School.  Stay cool.