Email from Social Media
By John Landsman, Director, Strategy & Analytics
The key social media outlets project an email footprint every bit as imposing as the activity and engagement they generate within their applications among millions of people worldwide.  And these communities have increasingly appeared within the audience overlap reporting we do for the client brands we analyze in our competitive reporting.
Most of us are also subscribed within one or more of these email audiences.  Here's a look behind the curtain.
Activity and Performance – These organizations reflect huge email audiences, and most generate very large related volumes.  See table below for details.
Facebook owns by far the largest of these email audiences, at 2.1 billion. At 1.5 billion, Twitter's audience is about 28% smaller than that. Pinterest's is 72% smaller than Facebook's, and Instagram's audience is 84% smaller than Facebook's.
Nevertheless, Pinterest is the largest mailer of the four, at just under 8,400 campaigns during a recent thirty-day period, and over nine billion emails deployed. Facebook's volumes rank second here, Instagram's third, and Twitter's fourth, with surprisingly small actual deployed mail volumes
Three of these mailers show strong inbox performance (92-97%). The fourth, Twitter, is somewhat problematic (86%).
Read rates are average to moderate throughout, ranging from 10% (Twitter), to 16% (Instagram). While these aggregate read rates are not as high as expected, the number of read impressions they reflect is very high, given their enormous send volumes, driving sufficiently high overall subscriber engagement to avoid inbox issues.

Audience Overlap  – See table below. 
Using Pinterest (the largest volume mailer) as a base, Facebook and Twitter reflect by far the largest overlaps with Pinterest's audience. Instagram's overlap is much smaller.
Using the other brands as a base, Pinterest's audience overlaps with each of those within a range of 15-17%.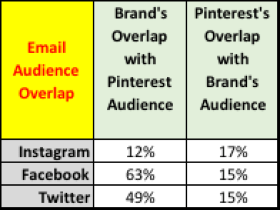 Examples of Top Performers
For the most part, these messages reflect very little classic promotional mailing. Activity is mostly administrative or transactional, although Pinterest does show several campaigns intended to drive traffic to various posted content which may be of interest to specific subscribers.
All of these messages are to highly targeted audiences.
All shown below achieved robust read rates, but it's notable that the highest shown (100%) comes from a Facebook message informing the recipient that s/he has been reported for "impersonation."
Several of Facebook's other messages reflect communications with advertisers.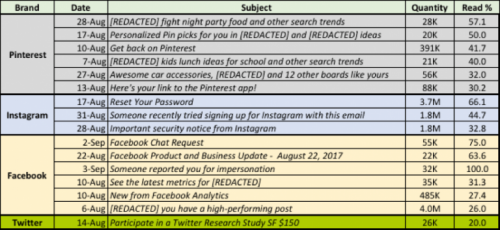 Key Takeaway:  Given these high levels of market coverage and engagement, no marketer should be without a clear and well-executed strategy to leverage the social media, both as communication channels for driving revenue, and as a means of acquiring qualified, opted-in email subscribers for their brands.  How's your strategy doing?