Our political update a few weeks ago described how President Trump and Speaker Pelosi, principal combatants in the impeachment email drama, were leveraging the opportunity for aggressive fundraising, with messages running the short gamut from passionate to inflammatory.   The onset of public hearings last week has only intensified this email combat.  We've looked into it, and some of what we found may surprise you.
The bar charts below show — among other metrics — each side's daily send volumes over the thirty days ended November 17th — Pelosi's on top; Trump's below.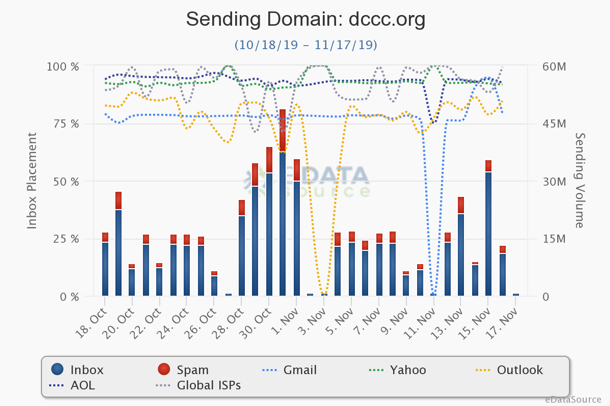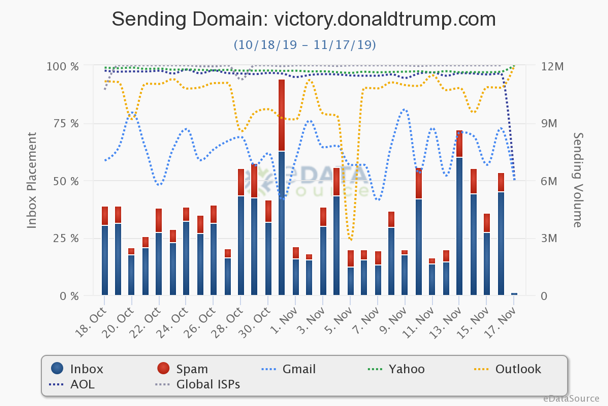 Both senders' email volumes spiked at the end of October, based on the usual press to maximize intake in time for Federal month-end reporting deadlines.
But both senders also instituted unusually high send volumes coinciding exactly with the public hearings which began on November 13th.
In those thirty days:
With an estimated email audience of 3.2 million, Trump sent 141 campaigns, averaging an inbox rate of 78%, and a read rate of 28%.
With an estimated audience of 16.7 million, Pelosi sent 1,531 campaigns (many highly personalized, averaging an inbox rate of 83% and read rate of 14%.
Each sender's contact frequency per recipient has been up to 2-3 emails per day during this period.
We should note that Trump's email audience is that of his reelection campaign (Donald J. Trump for President, Inc.).  Pelosi's is that of the Democratic Congressional Campaign Committee (DCCC), whose audience may have somewhat different interests and focus than those directly supporting a declared Presidential candidate who is also the incumbent.
Looking at notable campaigns from each side, their subject lines set the tone.  Here are some samples:

Content excerpts follow. Each side employs several variations on these themes, but you'll get the idea.  What's noteworthy is that while Trump's messaging strongly opposes the very notion of impeachment, Pelosi's is almost entirely focused on the need for money to counter Trump, but has not (yet) actually focused on impeachment.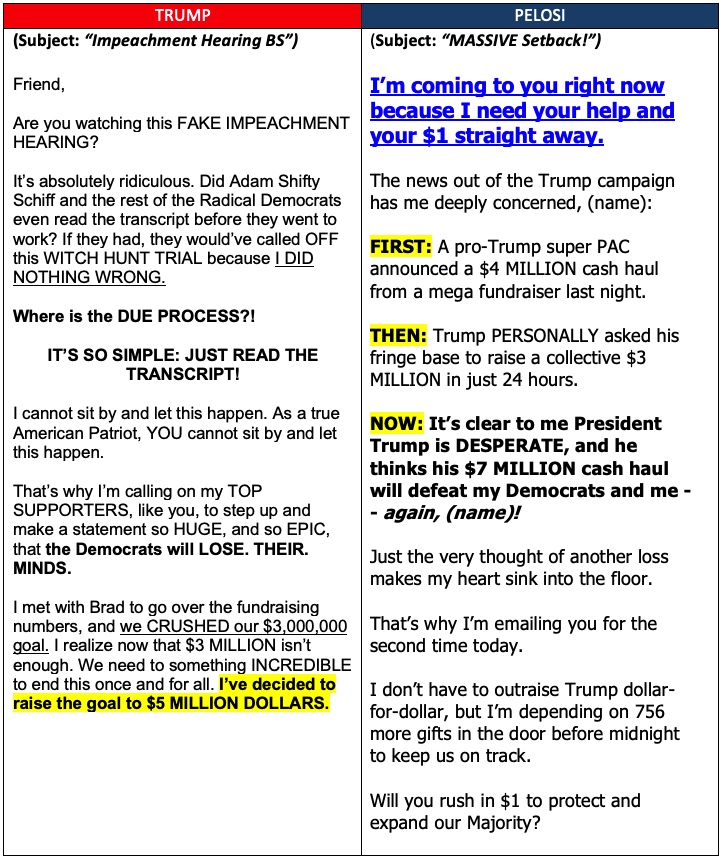 Of course, this drama is far from over.  We'll be providing further updates as developments warrant.  In the meantime, we'll also keep watching email from the Democratic Presidential field, most of whom have been all but lost in the impeachment spew.