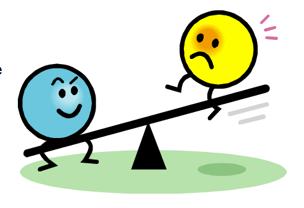 We were on a call the other day with a major client for whom we do deliverability reporting, analysis and consulting.  Many from the client's email team were on the call, along with the team's senior manager.
We were reporting a four-point drop in their inbox rate over just the past week.  For these professionals, who take pride in their usually strong inbox performance, the sudden four-point drop was a serious issue.  They needed answers.  And they needed not to have it happen again.
As the discussion unfolded, a classic scenario emerged.  Senior brand executives had demanded a special promotion requiring an unusually high number of touches per email subscriber in a short period of time.  That's all it took.  Over-mailing, especially when greatly exceeding a customary baseline cadence, is a notorious high-risk factor in managing inbox performance.  The email team had been uncomfortable with the request, but couldn't push-back in the time available.  Result?  The immediate and strongly negative inbox trend we reported. In addition, this scenario will have have eroded that brand's domain reputation for some time to come, and also driven a higher than usual number of unsubscribes.
For this campaign, our client's email team felt that the cost of what the brand executives had demanded will likely exceed any incremental value their special promotion would drive.   The challenge is to prove that hypothesis, which the email team intended to do.  Only this kind of proof can ward off — or justify — the next such request.  And these kinds of requests can also include other dubious practices, such as mailing into long-inactive audiences, using third party lists, or otherwise mailing to improperly opted-in audiences.
But how to manage the proof?
The two sides of this trade-off equation are:
Documenting the incremental value of the campaign(s). Marketing managers are usually required to do this to justify any significant advertising investment.  This means:

Measuring how much related revenue was generated during that period over and above estimates of baseline revenue that would have been expected without the promotion.
Applying an accurate gross margin rate to that incremental revenue.
Deducting from that incremental gross margin directly related advertising and other expenses.
Thus yielding the promotion's estimated incremental contribution.

Documenting the costs of straying from best practices in deploying emails for this event. These include:

Lost revenue/contribution from undelivered emails reflecting the relative inbox erosion — for as along as it lasts — caused by the questionable mailing practices.
Lost future revenue/contribution of email addresses lost to unsubscribes.
These are the basics of the trade-off.  Obviously, you need the right data to produce this kind of analysis, including the estimated value of an email address, a KPI that every email marketer should know.  Your organization's accounting system may dictate how — and with what data — you perform any of these kinds of analyses.  You'll get the most accurate — and credible — estimates if you involve someone from your Finance team in developing the analysis methodology and the data used in it.
This process won't be easy, but the effort will be worthwhile.  Because you'll finally have something more than informed intuition with which to push-back.  Even if the ultimate mailing decision is not what you'd recommended, at least your organization will know its real costs.