We're still about two weeks from Valentine's Day, but email supporting its promotion has been active for some time.  We've looked at this activity across eight key industries most likely to be deploying related email.
Bottom-line, many more Valentine's Day themed email campaigns are being sent this year than last for most of these industries, deliverability has improved for all, but read rates have considerably eroded for all but one.
Across the industries we investigated, the Online Shopping, Gifts & Remembrances (including florists) and Jewelry & Watches sectors are sending the most Valentine's Day email; Retail and Department Stores the least.  All sectors except Retail & Department Stores and Gifts & Remembrances show year-over-year volume increases.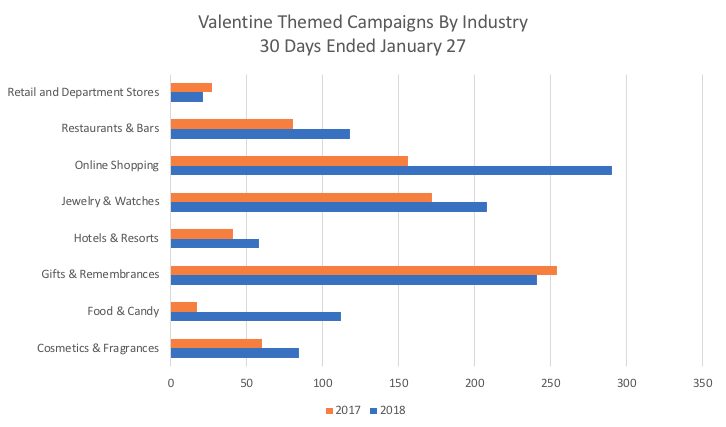 In terms of the percentage of email campaigns achieving better than 90% inbox performance, Retail & Department Stores and Restaurants & Bars score the highest; Jewelry & Watches the lowest.  Performance has strongly improved versus last year for all of them.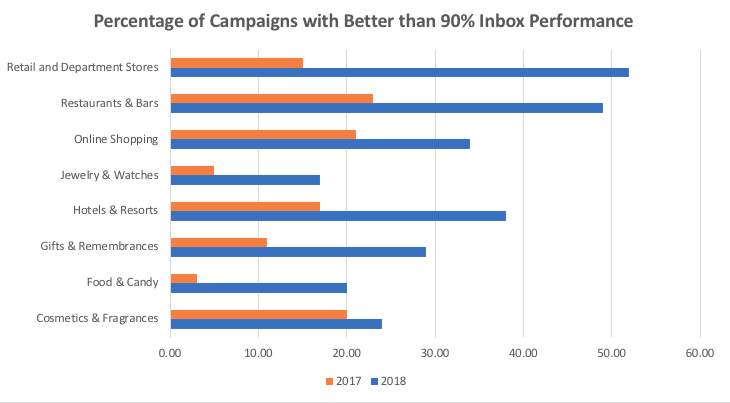 As for engagement, measured by the percentage of campaigns achieving better than 20% read rates, the strongest performers have been Hotels & Resorts and Restaurants & Bars; the weakest Retail & Department Stores (none of whose 2018 campaigns have reached the 20% read rate threshold) and Cosmetics & Fragrances.  All but one of the sectors showed decreases versus last year, except Food & Candy, and that sector was only flat with last year.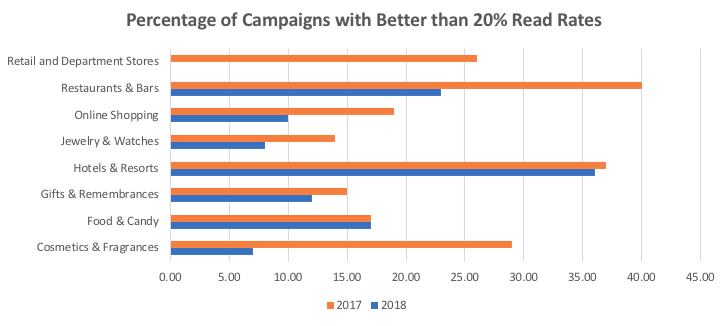 The table below gives ten examples of top performing Valentine's Day emails deploying to audiences larger than 150,000.   Half of their subject lines contain price-related promotional language, all implying special savings for early action.  Gilt's wins special mention for its length and the product-related detail it provides, irrespective of Valentine's Day.

We'll update this early look after February 14th.  In the meantime, don't forget your Valentine(s), and stay tuned for our next Blogpost —- on email supporting the Winter Olympics, beginning February 8th in Pyeongchang.