Achieving optimal inboxing just got easier with our launch of Command Center, a reimagined view of the key metrics you need to make informed decisions on managing your email deliverability performance.  Command Center was designed especially to support our ESP and agency partners who monitor large IP blocks and hundreds or thousands of sending domains. (Brands will find it helpful too, for managing multiple programs running on individual IP sets or those with many domains!)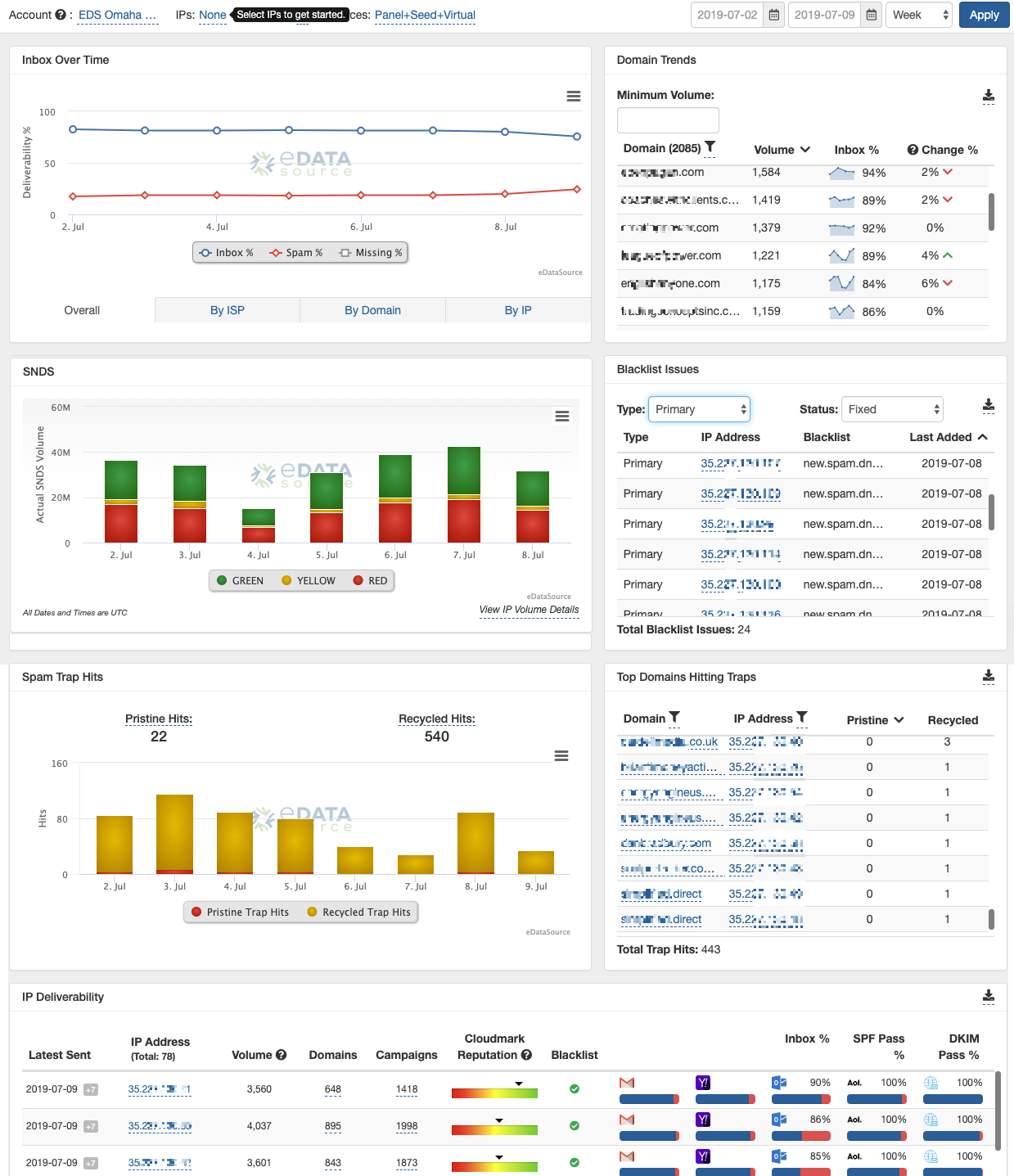 Command Center allows you to:
Significantly reduce the time to spot issues, with our optimized monitoring intelligence, BEFORE they harm your reputation. 
Quickly and accurately Identify critical issues or struggling domains, with centralized monitoring across all of your customer or sending domains, including:

Spam Trap Hits
Blacklists
Complaint Rates
Inbox Placement
SNDS Results

Get a complete view of your entire sending IP space. Detailed deliverability and reputation information is provided for every IP address sending from your infrastructure.
Taking a Closer Look at Command Center
We asked our CTO, Chris Adams, a few questions to find out what our users should expect from this new feature:
What inspired you to create Command Center?
"The idea for Command Center came directly from feedback from our long time ESP and large Brand partners.  One of the challenges for large brands and service providers is quickly and accurately monitoring hundreds, thousands and even tens-of-thousands of sending IPs.  We asked ourselves the question: 'What if there was a better way?' We believe with Command Center we believe we have delivered on the best way for large senders and providers to quickly monitor and action relevant issues across their entire email program."
Where do you think our clients will find the greatest benefit from this new view? 
"One of the key requirements with Command Center was to make it as simple and easy as possible to manage hundreds of thousands of senders and/or IPs.  This new functionality will allow our clients to quickly spot trouble senders/ips and to monitor their entire infrastructure regardless of how many clients or IPs they need to manage."
What can you find in Command Center that you can't in the Inbox Tracker dashboard? 
"Both dashboards provide similar deliverability insights, the major difference is Command Center looks at the data from an IP Address perspective instead of a Sending Domain perspective.  So, users of Command Center will be able to easily monitor massive IP spaces with minimal effort. Command Center automatically will highlight and find trouble senders or IPs and bubble those issues to the top, at which point, they can drill down into specific senders within the Inbox Tracker dashboard."
Some of our ESP partners have thousands of domains and thousands of IPs. Will they be able to see all of their data in real time?
"One of the biggest technical challenges with Command Center was our desire to handle, not only thousands but hundreds-of-thousands of IP addresses in real-time.  I was extremely excited on the day that we finally found a technical solution that would not only allow to handle the massive scale, but to do so in real time! Whether you had 100 IPs or 100,000 IPs, our clients can know that the data they are seeing is as fresh and current as possible."
What are you and the engineering team working on next?
"Well, some of that is a secret. 🙂  
But, we have some very exciting new features and products coming out in Q3, both for Competitive and Inbox Tracker. But… Wouldn't it be pretty cool if within a matter of seconds our users were able to determine what email journey your users took on their path to converting to a paid subscription or purchase?  Or for our Inbox Tracker clients, how much time could be saved, if you had the ability to perform list hygiene directly within the platform? Those are just a few of the questions we are working on answering this quarter."
Interested in learning more? Contact us to schedule a tour of Command Center!